The ABC's of Heel Pain Relief
Heel Pain Relief/Plantar Fasciitis
A - Comf-Orthotic® 3/4 Length Wool Felt Insoles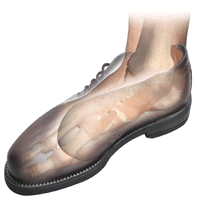 For use in dress or casual style shoes that do not have a removable insole.
Complements shoes that already have some built in arch support.
Comfortable for even most flat footed individuals.
Soft, resilient wool felt is contoured with a mild arch support and metatarsal lift, and a unique horseshoe style heel cup.
Provides remarkable comfort and cushioning. Ideal for long hours of standing and walking.
Foot pressure without Comf-Orthotic Insole.Foot with Comf-Orthotic Insole substantially reduces pain & pressure.
B - Comf-Orthotic® Sports Replacement Insoles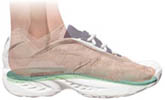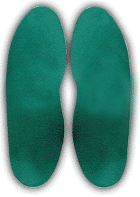 For use in athletic or similar style shoes with a removable insole.
Same patented arch, metatarsal and horseshoe heel cup design as the wool felt variety. Soft, resilient cushion over a contoured, self-molding EVA foam foot bed.
The insole quality guarantees shock absorbency for the life of the shoe without thinning or crumbing. Anti-shearing and moisture absorbency prevent heat and friction build-up that can cause calluses and blisters. A breathable, suede-like top cover wicks moisture away from the foot.
Reduces stress of high impact sports activities.
C - Scaphoid Pads

If additional arch support is desired, add the Scaphoid Pad under the insole. Adds 5/16″ lift and is available in three sizes.